Knuckled Under by Wakefield
Tim Wakefield and the famous Warner Bros. Looney Tunes characters take the field to tribute Tim's masterful knuckleball pitch in Knuckled Under by Wakefield. This unique limited edition, personally signed by Red Sox great Tim Wakefield, is raising funds for Pitching in for Kids.Tim Wakefield teams up with the looney tunes characters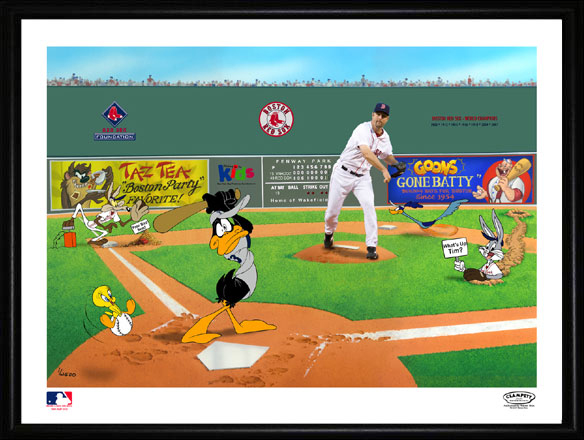 Dear Red Sox Fans,
Knuckled Under by Wakefield is a spectacular limited edition that is special to my heart. To have Warner Bros. create a one-of-a-kind piece of art with me and my favorite Looney Tunes characters at Fenway Park, and to be the first MLB pitcher to be featured in a Warner Bros. animated limited edition, is simply amazing.
I'm particularly proud that proceeds from Knuckled Under by Wakefield will be going to a great cause through the Pitching in for Kids nonprofit organization, dedicated to improving the lives of needy children across the New England region.
I used to watch the Bugs Bunny Comedy Hour every Saturday when I was a kid. I love Bugs, the smartest (and most sarcastic) of them all. Tweety is still having the most fun - this time on my pitched ball rather than dodging Sylvester's antics! The Coyote is once again trying to lure the Road Runner with his explosive tricks...always hilarious and with no dialog! Notice the "Goons Gone Batty" billboard on the Green Monster - it's my favorite cartoon.
Go to KnuckledUnderByWakefield.org to join me and the famous Looney Tunes characters as we raise funds for Pitching in for Kids. I am personally signing each fine art lithograph and hand-painted cel for this custom framed limited edition.
Red Sox fans are truly the best, and I sincerely thank you all for your many years of support!
Go Red Sox!